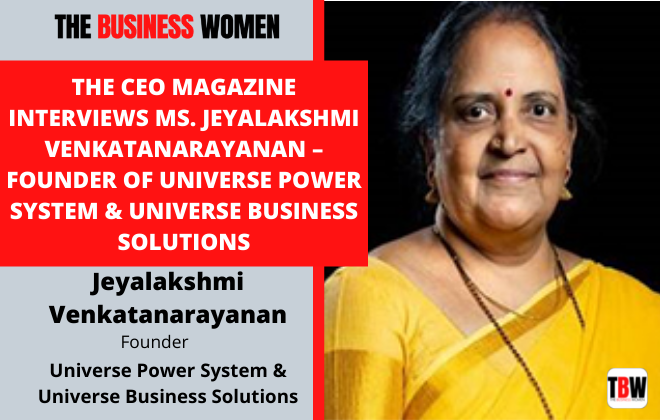 The CEO Magazine interviews Ms. Jeyalakshmi Venkatanarayanan – Founder of Universe Power System & Universe Business Solutions
The CEO Magazine interviews Ms. Jeyalakshmi Venkatanarayanan – Founder of Universe Power System & Universe Business Solutions
TCM:Kindly tell us something about your work profile/business including yourself.
Jeyalakshmi:I am the founder and proprietor of Universe Power Systems and Universe Business Solutions. I am also the founding trustee of Universe Art Foundation.My educational background is in Electronics and Telecommunication Engineering. I am also a qualified teacher, accomplished dance Guru, Choreographer and Carnatic singer. I received management education from ISB, Hyderabad with sponsorship from Goldman Sachs.
I started Universe Power Systems in 1997, as a business partner of Emerson Network Power (formerly was Tata Liebert). From no prior customer base, Universe grew to serve more than 2,000 reputed companies in various segments like IT, manufacturing, government& BFSI, healthcare and educational institutions. I am the only independent woman business partner for Emerson Network Power in India.
We have expanded our products and services from UPS, batteries, stabilizers and inverters to include designing, consulting and executing "total" power solutions for data centers, home and building automation, precision cooling and integrated solar power.
I also founded Universe Business Solutions in 2016. Universe Business Solutions provides mentorship for entrepreneurs to help them start up and scale-up their businesses effectively. We also conduct leadership and management training programs for individuals, groups and corporate organizations.
Universe Art Foundation (UAF), a not-for-profit organization, was started by me during 2012 following the footsteps of my father and Guru. The aim of UAF is to help Indian artists who face challenges in terms of financial, medical, education, exposure and reach to larger audiences and forums.
I was awarded the Rashtriya Rattan Award on the occasion of Indira Gandhi's birthday in the year 2000 by the Global Economic Council for exceptional achievements in business. In 2008, Kannada Prabha, a popular Kannada daily, bestowed me with the title of 'Powerful Lady'. A book by the same title was released later that year.
TCM: What was your dream as a business lady?
Jeyalakshmi:My dream was to make a mark in the male-dominated field of power and build a business brand that customers can trust.
TCM:What is your greatest professional accomplishment till date?
Jeyalakshmi:In recognition of my success as a woman entrepreneur, I was selected by Goldman Sachs and Indian School of Business as one among 10000 women entrepreneurs around the world who made a difference. Through this program, I also received intensive management training at ISB.
TCM:Have you ever failed in your initiatives? What have you learnt from your failures?
Jeyalakshmi:During the initial years of my business, I took up large projects without properly assessing my ability to execute them and incurred some financial losses. With experience, I learnt from this failure by having a clear financial strategy and timeline for each project.
TCM:What are your ideals?
Jeyalakshmi: I believe in working with discipline and integrity towards my goals. I place a lot of emphasis on service, be it serving the unique needs of my customers or serving society through my other activities like Universe Art Foundation.
TCM: How many hours a day you work on an average?
Jeyalakshmi: I typically work 10-12 hours a day. Apart from that, I am always available on call for my clients.
TCM: What is the best decision you've ever made?
Jeyalakshmi: Founding Universe Power Systems is the best professional decision I made. Prior to starting Universe, I was running a dance school. While it was a career path I loved, I also knew that I wanted to take up a venture where I could use my technical background. Starting Universe Power Systems helped me do that in a challenging, fast-paced entrepreneurial setting.
TCM: What stimulated your ideas to start a new business venture or to bring significant changes in an existing business/at workplace?
A few years after I started Universe Power Systems, I sensed a need in the market for end-to-end customized power solutions, rather than an integration of products from different vendors. At that point, I pivoted our business model to focus on designing specific solutions for the customer's power needs instead of selling products.
Over the past two decades, I have been a mentor to several entrepreneurs. I have also been invited to speak at several forums on entrepreneurship, management, and leadership. My interactions in these roles stimulated me to start Universe Business Solutions to fill a void that exists in mentoring entrepreneurs to take their business to the next level. I also felt that I could leverage my entrepreneurial experience to train managers.
TCM: What effective strategies you have implemented/initiatives you have taken to achieve success?
Jeyalakshmi: At Universe, our mission is to provide total green power solutions to customers across various segments and back it up with quality and reliability of our service support system. Our business objectives are to ensure maximum uptime, clean power, and a unique customer experience. We have achieved success in this mission by maintaining clear and transparent communication with customers, being receptive to their unique requirements and providing 24/7 service.
TCM: How do you define success? What is your take on the ways to achieve long-term success?
Jeyalakshmi: To me, success is striking that particular balance between accomplishments in work and life that makes one happy. This is very personal to an individual and cannot be standardized.I believe that long-term success cannot be achieved without consistent effort towards finding that balance, a disciplined work ethic and persistence in the face of failure.I would also like to add that one should not be carried away by one's achievements.
TCM: Please tell us about your future plans.
Jeyalakshmi: Universe Power Systems has expanded to cover a wide range of solutions, products and services in the power sector with over 2000 customers over the last 20 years. In this process, our business ethics, our approach to customers, our internal processes and solution methodologies have been refined. At this stage, my future plan is to expand the reach of the Universe brand via franchises all over the country. The franchisees will be trained to follow the same processes and guiding principles that we have refined over the last two decades.
Since I started Universe Business Solutions, I have also seen an increased need in the leadership and entrepreneurship training sphere. I would like to expand this business to provide one-on-one mentoring and consulting services for budding entrepreneurs, especially women in non-traditional fields. I am also expanding this business to conduct training sessions and workshops by partnering with universities and corporate organizations. We recently held a successful series of workshops on smart ways to scale-up businesses.
TCM: Who has been your greatest inspiration?
Jeyalakshmi: My father, who rose from abject poverty to overcome all odds and be a successful classical dancer and composer by his hard work; and my children, who inspired me to use my technical training to become an entrepreneur.
TCM: Whom do you attribute your success to?
Jeyalakshmi: I would attribute my success to my hard work and perseverance.
TCM: Do you think your personal life is affected by your professional life? How?
Jeyalakshmi: Despite my hectic work schedule, I make sure that I spend quality time with my family, especially my two daughters. This balance surely gives me overall satisfaction and happiness, which would otherwise be lacking if only my work life was given a priority.
TCM: What do you think is the biggest challenge to female leadership?
Jeyalakshmi: For women leaders, balancing work and family remain the key challenge. I believe this can be overcome by prioritizing what is important on a day-to-day basis and managing one's time efficiently.