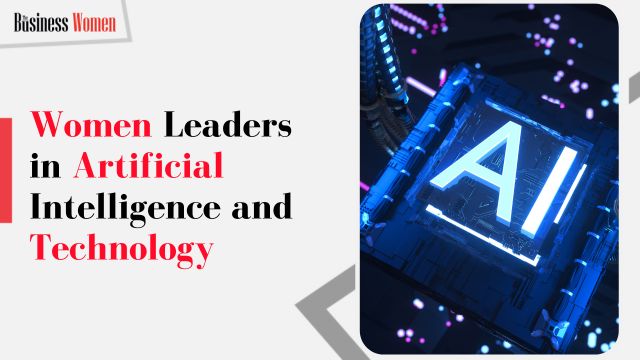 Women Leaders in Artificial Intelligence and Technology
In the fast-evolving landscape of artificial intelligence and technology, women are making their mark as visionary leaders, innovators, and trailblazers. This article presents the remarkable journeys of women defying stereotypes, shattering glass ceilings, and spearheading transformative advancements in AI and technology.
The Power of Diversity in Tech Leadership
As the tech industry forges ahead, the importance of diversity in leadership has never been more evident. Women leaders in artificial intelligence and technology bring unique perspectives, insights, and problem-solving approaches. Their presence not only challenges gender norms but also fuels innovation by fostering a collaborative environment where diverse ideas flourish.
Pioneering Innovations and Breakthroughs
From designing cutting-edge algorithms to creating groundbreaking software solutions, women leaders in AI and technology are at the forefront of innovation. Their stories unveil how they have harnessed the power of AI to address real-world challenges and drive transformative change across industries. Their groundbreaking work inspires aspiring women technologists to push boundaries and pave the way for future breakthroughs.
Below mentioned are examples of women leaders in Artificial Intelligence and Technology:
Anjali Iyer
Anjali Iyer holds the position of Senior Delivery Practice Leader at TheMathCompany Inc. Her extensive experience of more than 12 years in managing digital transformation initiatives for Fortune 500 clients has made her a specialist in cloud data engineering, product engineering, and multi-cloud MLOps. Anjali's leadership abilities have led to significant enhancements in business metrics for all her clients.
Debarati Sengupta
Debarati Sengupta is the Chief Product Officer at Futurense Technologies and Miles Education. With a wealth of experience spanning over 15 years, Debarati excels in constructing scalable tech talent solutions. Her expertise lies in developing and implementing data-driven skilling strategies and establishing innovative products and business models.
Divya Gupta
Divya Gupta, known for her role as Country IT Lead at Dyson, is a seasoned expert in the field with 13 years of experience in digital transformation and consulting. Divya's professional journey includes engagements with renowned consulting firms such as Deloitte, Accenture, and Cognizant. She now heads the IT division for Dyson India. Additionally, Divya is pursuing a PhD in 'Digital Transformation' from NMIMS Mumbai and has contributed to several published papers in this domain.
Jayashree Arunkumar
Jayashree Arunkumar holds the esteemed position of Engineering Head at Wipro Digital Ltd. Her extensive experience encompasses leading digital transformation initiatives for US clients. With expertise in Agile software development and AI/ML-powered platforms, Jayashree has successfully executed global transformation programs for banking, media, and healthcare clients. Jayashree's academic background includes studies at Madras University and Disruptive Strategy and Innovation and Sustainable Business Strategy at the Harvard Business School.
Kavitha Krishnan M
Kavitha Krishnan M serves as the Senior Manager of Data Science at Tredence and holds the global co-leader role for AI/ML projects. Kavitha has created solutions for leading retail clients, Possessing over a decade of experience in all facets of data science. Her areas of expertise include dynamic price optimisation, price micro zoning, markdown optimisation, and revenue growth management engines. Kavitha's contributions have yielded cumulative annual benefits exceeding USD 20 million.
Khushboo Singhal
Khushboo Singhal, the Director of Insurance Analytics at WNS Global Services, brings extensive experience managing extensive teams of data scientists, analysts, and intelligent automation experts. Khushboo's skill set extends to data engineering, RPA automation, and Tableau data visualisation. She has been a driving force in pioneering voice biometrics for call centre augmentation and implementing sentiment and survey analyses using AWS Comprehend and NLP.
Megha Sinha
Megha Sinha holds the role of Vice President at Genpact India. With over 13 years of experience, Megha has led successful end-to-end conceptualisation, development, and deployment of data integration solutions and enterprise applications. Her expertise lies in data and technology strategy, consulting, and enterprise application design and development. At Genpact, Megha's responsibilities encompass managing full-stack AI/ML solutions, strategic offerings, and new initiatives in cloud analytics and MLOps. She collaborates closely with Hyperscalers to create industry-specific offerings.
Conclusion
As we reflect on the remarkable journeys of women leaders in artificial intelligence and technology, we are reminded of the progress that has been made and the road that lies ahead. These visionary women have shattered glass ceilings, pioneered innovations, and championed diversity in a field shaping the fabric of our future.