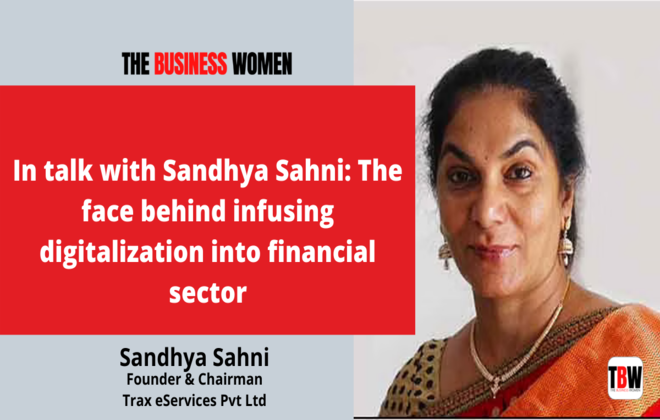 In talk with Sandhya Sahni: The face behind infusing digitalization into financial sector
In talk with Sandhya Sahni: The face behind infusing digitalization into financial sector
She built an empire from a meager amount of Rs.5000. Sandhya Sahni, a seasoned entrepreneur is the Founder & Chairman at Trax eServices Pvt Ltd. Having dealt with her share of ups and downs during her entrepreneurial voyage, Sandhya has successfully powered through with her founding team still intact and company at the top of its game even today. Told in her own words and filled with personal experiences, anecdotes and experiences, this editorial speaks about Sandhya's entrepreneurial journey.
Interview scrolls….
An entrepreneurial voyage is a journey of discovering something new at every step. What was your dream as a business lady? Kindly share excerpts of your story.
It was my dream to invest myself into something that was path-breathing. Financial industry was not women-friendly at that time. I had none to show me the way; I took baby steps all by myself. I started Trax e-Services at the age of 26 years and today, Trax e-Services stands as a leader in the domain of banking services space and we have recently ventured in to e-commerce support services. We are the flag bearers of digitization in banking and bringing digital tracking in ecommerce. I always wanted to take my Digital India-focus globally. I further plan to expand into Africa, Middle East & South East Asia and help countries learn from India's fantastic push in digitalization.
Congratulations for crossing the silver mark of 25 years of your professional voyage. According to you, what has been your greatest professional accomplishment till date?
Thanks for your wishes. My biggest professional accomplishment was Pan-India transformation of Trax e-Services from a purely physical cheque processing to a fully digital player in e-cheques and e-payments in just 18 months. For a 25 year old firm, this was a massive shift for us but my expert team handled it with professional efficiency and correspondingly, we have positioned ourselves as a prominent leader in e-cheques business.
Share a brief note over Trax e-Services. Did it turn out as your best decision?
I saw the power in PM Modi's digital push really early and decided to totally overhaul Trax. This has been my best decision as Trax is a reinvented business today with 30% higher revenues compared to couple of years ago. Trax e-Services was incorporated in 1991 to provide unrelenting financial backend services and solutions including Cash Management Services, Cheque Processing and Complete Clearing Operations, Loan Application Data Processing, Customer Interaction Services, Account Data Management, Retail Banking, Credit Card Processing, Telecom Clearance – Bar-Code Scanning, Customized Software Development, Data Conversion, Data Processing, Automated Pickup Monitoring with Online Tracking, Human Resources Outsourcing, Telecommunication, E-Commerce Solutions and much more. Today we enjoy our presence internationally in Dubai and the Middle East in addition to the major cities across the length and breadth of India. Over the two decades Trax has provided to major multinational banks while enabling them to focus on their core architecture. Playing a key role in the financial geometry, Trax continues to grow progressively as we believe in the motto that Our Services.
Have you ever failed in your initiatives? What have you learnt from your failures?
With intuition and the grace of almighty, we have been fruitful in most of our strategic and operational initiatives. However, some of our process changes did not go according to plan. I was unavailable due to health issues and certain decisions taken in my absence adversely affected these initiatives. The key lesson was to add a layer of senior management to handle day-to-day issues and report them for effective decision making, while I focus on exploring new markets for business expansion.
Who has been your greatest inspiration? What are your ideals?
My Dad. He was a senior police officer (DGP). He inspired me to be an independent woman of substance. He supported and influenced me in my actions and in my thoughts. Empowerment and honesty brings out the best. I believe in empowerment of my employees so that they can deliver their very best to our clients. These ideals have helped create truly motivated personnel who deliver honest work to businesses.
What effective strategies you have implemented/initiatives you have taken to achieve success?
Training. I believe that, fundamentally, all employees want to be successful and they are willing to put in every effort they can to get there. However, effort by itself cannot take you there if you lack knowledge or skill-sets. I empower my employees by providing them training in areas that will help them excel. Our training is created and delivered in the field making it extremely productive and impactful.
How do you define success? What is your take on the ways to achieve long term success? Whom do you attribute your success to?
Impact on the society. I measure all actions and success by the impact they have on our society. My family, starting from my parents to my kids have always been very supportive of my work and have been huge pillar of strength for me.
Do you think your personal life is affected by your professional life? How?
I believe in keeping professional and personal life at distance. My professional commitments never come in the way of my family needs & vice versa. This balance has helped me keep focus on both and be very successful everywhere.
What are your plans for Trax e-Services future?
We are planning to expand in to emerging markets on a global front. We have identified 10-15 countries that are at a similar stage in banking and e-commerce as India was 3-4 years ago. My plan is to expand Trax to these countries in the next 18 months and bring my mantra of digitization to these countries.
What do you think is the biggest challenge to female leadership?
The biggest challenge has been people's mindset. Most people are not wired to see women as leaders. Even when we have towering examples like Indira Gandhi, Angela Merkel and Indra Nooyi, people still find it difficult to accept women as leaders, entrepreneurs and successful business owners.
It would be a treat for our readers if you share few words as a piece of advice for our young women entrepreneurs.
(please answer the following question, Thanks)