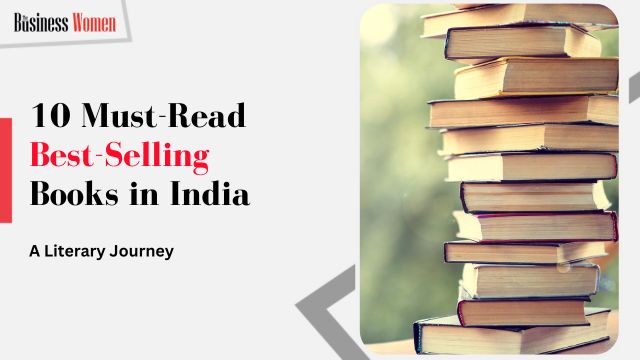 10 Must-Read Best-Selling Books in India: A Literary Journey
India's rich tapestry of languages, cultures, and traditions has fostered a vibrant literary landscape for centuries. The realm of Indian literature boasts a plethora of languages, genres, and narratives that cater to diverse tastes. While India's literature encompasses over twenty languages, proficiency in English adds another layer to its literary treasure.
In recent times, English literature in India has surged, with a remarkable increase in the number of books released annually, spanning genres from fiction to non-fiction and educational texts.
With this in mind, we present a curated list of 10 best-selling books in India that you won't want to miss. This collection traverses both fiction and nonfiction realms, offering a literary feast for every palate.
The God of Small Things by Arundhati Roy
A debut masterpiece by Arundhati Roy, "The God of Small Things", is a modern classic that transcends national boundaries. Set in Kerala, the novel's narrative revolves around the lives of twins Estha and Rahel, unveiling their emotions, love, betrayal, and the profound impact of their cousin Sophie's arrival. The story delves into themes of caste, class, and discrimination.
Fasting, Feasting by Anita Desai
Anita Desai's "Fasting, Feasting" highlights India's patriarchal family system. The novel follows Uma, a spinster constrained by familial expectations, highlighting the sacrifices and burdens that daughters often bear. Desai captures the tension between cultural norms, family values, and personal aspirations.
Shadow Lines by Amitav Ghosh
Amitav Ghosh's "Shadow Lines" masterfully weaves the threads of time and events, creating a narrative tapestry that traverses both boundaries and generations. The novel explores the partition of India, the Swadeshi Movement, and World War II, blending history and personal perspectives into an engaging tapestry.
A Suitable Boy by Vikram Seth
Vikram Seth's monumental "A Suitable Boy" is a post-independence saga that follows a mother's quest to find a suitable match for her daughter. Set against the backdrop of a changing India, the novel delves into issues such as Hindu-Muslim relations, the abolition of the Zamindari System, and the empowerment of women.
Midnight's Children by Salman Rushdie
Salman Rushdie's "Midnight's Children" chronicles India's transition from British colonisation to independence and partition. The protagonist, Saleem Sinai, is born at the stroke of midnight on Independence Day and develops a unique telepathic connection with other children born at the same time. The novel's narrative brilliantly blends history, magic realism, and political allegory.
The Namesake by Jhumpa Lahiri
Jhumpa Lahiri's "The Namesake" delves into the immigrant experience, cultural clashes, and generational gaps. Through the lens of a Bengali family's journey from Calcutta to America, the novel explores identity, family dynamics, and the struggle to reconcile cultural differences.
Train to Pakistan by Khushwant Singh
Khushwant Singh's "Train to Pakistan" provides a poignant portrayal of the events surrounding the partition of India in 1947. The narrative revolves around a village straddling the India-Pakistan border, presenting a compassionate exploration of human nature, conflict, and communal tensions.
Life of Pi by Yann Martel
"Life of Pi" by Yann Martel is an extraordinary tale of survival and faith. The protagonist, an Indian boy named Pi, finds himself stranded at sea with only a Bengal tiger for company. Martel weaves a narrative that delves into spirituality, human resilience, and the power of imagination.
The Inheritance of Loss by Kiran Desai
Kiran Desai's "The Inheritance of Loss" delves into themes of migration, cultural identity, and the gap between tradition and modernity. Set in the Himalayas, the novel navigates the complexities of an Indian family's interactions with the Western world, shedding light on the challenges of adapting to new environments.
The Immortals by Amit Chaudhuri
Amit Chaudhuri's "The Immortals" captures the musical essence of 1970s and 80s Bombay, intertwining the lives of two families connected by music. Chaudhuri, a musician himself, infuses authenticity into this tale of music's role in shaping lives, relationships, and identities.
Conclusion
India's literary canvas is vast and diverse, offering readers a plethora of narratives to explore. Amidst the digital era, these best-selling books continue to captivate readers with their narratives, insights, and timeless themes. So, whether you're seeking an enriching literary experience or a captivating escape, these novels offer a gateway into the vibrant world of Indian literature.