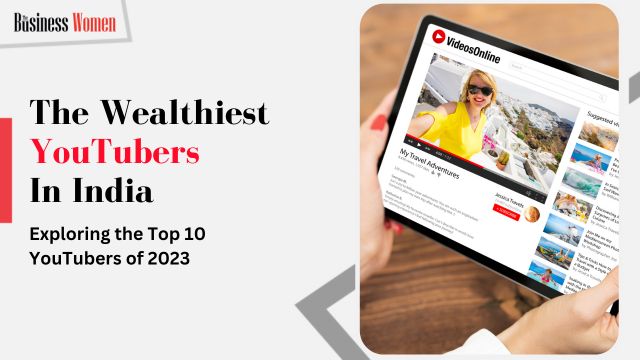 The Wealthiest YouTubers in India: Exploring the Top 10 YouTubers of 2023
YouTube, the free video streaming platform, has experienced a surge in popularity in India over the past few years. With its user-friendly interface and a wealth of free content, it has become the preferred choice for the Indian audience. Beyond being a source of entertainment and information, YouTube has evolved into a platform for content creation and employment opportunities. In this article, we delve into the realm of India's richest YouTubers, spotlighting the individuals who have harnessed the platform's power for both fame and fortune.
Ajay Nagar – Carryminati
Ajay Nagar, better known as Carryminati, stands as a testament to the power of YouTube. Launching his channel at the young age of 10 in 2014, Nagar's journey has been nothing short of remarkable. With an impressive subscriber count of 36.9 million, his net worth now stands at a staggering $4 million. Pioneering the roasting industry, his witty and captivating content has earned him a massive following. While his early success was centred on roasting, his gaming-related content on his second channel, "CarryisLive", has increased his popularity.
Bhuvan Bam – BB Ki Vines
Bhuvan Bam, an actor, performer, and author, has rewritten the rules of YouTube success. With his channel "BB Ki Vines" boasting 25.6 million subscribers, he has amassed a net worth of $4 million. Starting with Indian music covers, he evolved into a comedic sensation, captivating audiences with his humorous skits. His journey from Delhi to YouTube stardom has propelled him into the ranks of India's top 10 richest YouTubers.
Ashish Chanchlani – Ashish Chanchlani Vines
Ashish Chanchlani, known for his collaborations with Kunal Chhabria, Akash Dodeja, and Simran Dhanwani, has achieved remarkable success. With a subscriber base of 28.8 million, he boasts a net worth of $5 million. His comedic timing and knack for creating relatable content have garnered over 4 billion views on his videos, solidifying his place among India's wealthiest YouTubers.
Amit Bhadana
Amit Bhadana has carved a niche for himself with his exceptional comedic content. His YouTube channel, boasting 24.1 million subscribers, has propelled his net worth to $5.4 million. Known for his acting prowess and quirky statements, Bhadana's multifaceted talent extends to singing and composing official music, making him a standout in India's YouTube landscape.
Gaurav Chaudhary – Technical Guruji
Gaurav Chaudhary, the mastermind behind "Technical Guruji," has become a household name for tech enthusiasts. With 22.5 million subscribers, Chaudhary's net worth sits at an impressive $45 million. Sharing his technical expertise through reviews and unwrapping videos, he has expanded his empire beyond YouTube with enterprises in Dubai and lucrative sponsorships.
Sandeep Maheshwari
Sandeep Maheshwari's impact extends beyond YouTube, inspiring individuals to transform their lives. Boasting 25.3 million subscribers, his net worth stands at $3.5 million. Maheshwari's motivational videos and ownership of ImagesBazaar, a vast Indian image collection, have solidified his position as one of India's highest-paid YouTubers.
Nisha Madhulika
Nisha Madhulika has conquered the culinary world of YouTube with her cooking expertise. Her channel, boasting 13 million subscribers, has propelled her net worth to $5.56 million. As an Indian chef and YouTube creator, Madhulika's popularity in cooking content has earned her widespread acclaim.
Emiway Bantai
Emiway Bantai, a multifaceted artist excelling in vocals, rap, performance, and video creation, stands out in India's YouTube landscape. With 18.2 million subscribers, his net worth has reached $5 million. His rise to fame, especially after his work on the song "Asli Hip Hop" for the movie "Gully Boy," showcases the diverse avenues YouTube offers.
Dr. Vivek Bindra
Dr. Vivek Bindra has transformed the entrepreneurial landscape with leadership and business coaching. His channel, boasting 19.9 million subscribers, has propelled his net worth to $6.5 million. Besides YouTube, Bindra's courses and app have revolutionised learning and leadership development.
Dhruv Rathee
Dhruv Rathee, an Indian YouTuber based in Germany, has harnessed the power of YouTube to shed light on political, economic, and historical topics. His subscriber count of 8.81 million has translated into a net worth of over $4 million. Rathee's authenticity and informative content have resonated deeply with his audience.
Conclusion
In the dynamic world of YouTube, these individuals have managed to convert their passions into profits, amassing incredible wealth and fame. With unique content that captivates audiences, these top 10 Richest YouTubers in India have gained popularity and redefined the concept of celebrity in the digital age. Their journey inspires aspiring content creators and is a testament to the boundless opportunities platforms like YouTube offer.