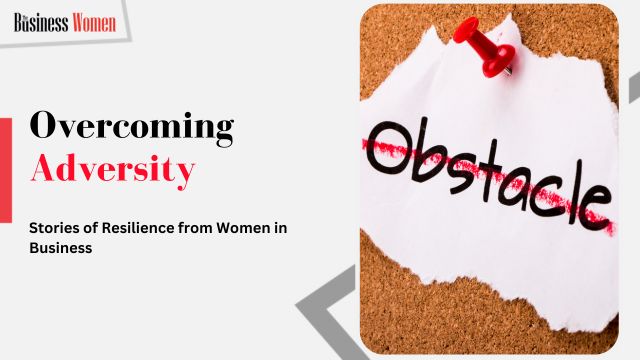 Overcoming Adversity: Stories of Resilience from Women in Business
In the dynamic business sphere, challenges and setbacks are as inevitable as success and growth. However, it's the way these challenges are navigated that genuinely defines a leader's mettle. Women in the Indian business arena have consistently demonstrated their resilience, turning adversity into a catalyst for transformation and success. These remarkable stories of triumph over trials inspire and underline the unyielding spirit of women entrepreneurs.
Falguni Nayar – Pioneering Nykaa's Success
Falguni Nayar's journey from an IIM Ahmedabad alumnus to the founder of Nykaa showcases the power of tenacity and vision. After two decades as a venture investor and merchant at Kotak Mahindra Group, Falguni transitioned into entrepreneurship. In 2012, she took a daring leap, leaving her secure corporate position to establish Nykaa, an online beauty products retailer. Falguni's story underscores that even established careers can be transformed into groundbreaking ventures with the right passion and determination. Nykaa's remarkable growth, consistently surging at 100% year after year, speaks volumes about her leadership.
Aditi Gupta – Revolutionizing Conversations Around Menstruation
Aditi Gupta's journey embodies the essence of creating social change through entrepreneurship. Through her initiative, Menstrupedia, Aditi tackled the taboo surrounding menstruation in India. Born and raised in a small Jharkhand city, Aditi's personal experiences led her to co-found Menstrupedia with her husband. Their Hindi comic book aimed to raise awareness and knowledge about menstruation, challenging age-old beliefs perpetuating discrimination. Her inclusion in Forbes' 20 under 20 list within two years of Menstrupedia's inception underscores the transformative power of innovative solutions to societal challenges.
Vani Kola – Crafting a Venture Capital Legacy
Vani Kola's journey from an electrical engineering degree to becoming the CEO of Kalaari Capital reflects the evolution of a visionary leader. After working with notable tech companies in the US, Vani embarked on her entrepreneurial journey by founding RightWorks in 1996. Her subsequent ventures, including Nth Orbit and Kalaari Capital, demonstrated her acumen in spotting opportunities and fostering startups often overlooked by others. Vani's commitment to nurturing early-stage tech startups has propelled Kalaari Capital to have over 200 assets and capital raised exceeding $740 million.
Priya Paul – A Hospitality Maven's Tale of Reinvention
Priya Paul's ascent in the hospitality industry is a testament to resilience and innovation. Born into the Apeejay Surrendra Group, Priya's journey began with joining the family business at The Park Hotels' marketing division. Tragedies struck as she quickly lost her father and brother, thrusting her into a leadership role at a young age. Priya's response was revolutionary, reshaping India's hospitality landscape with contemporary designs, themed lounges, and innovative concepts. Her adaptability, creative vision, and unwavering determination have made her an iconic figure in the industry.
Kiran Mazumdar-Shaw – Biocon's Biotech Maven
Kiran Mazumdar-Shaw's transformation from a biology and zoology graduate to the founder of Biocon epitomises the power of adapting to change. Her initial goal of becoming a brewmaster in India's brewing industry was thwarted by gender bias. Undeterred, Kiran pursued her aspirations in biotechnology, leading to the establishment of Biocon. Today, Biocon is one of India's largest biotech companies, and Kiran stands as the country's first self-made female billionaire. Her journey underscores the importance of resilience, adaptability, and pursuing passion against all odds.
Conclusion: Triumphing Against All Odds
The stories of women in business overcoming adversity are not merely anecdotes but testimonies to the triumph of the human spirit. These women leaders exemplify resilience as they navigate uncharted territories, redefine norms, and emerge stronger from setbacks. Their journeys underscore that challenges are not roadblocks but stepping stones to success. As we absorb their stories, we are reminded that adversity, when met with determination and innovation, can become a powerful force for transformation.