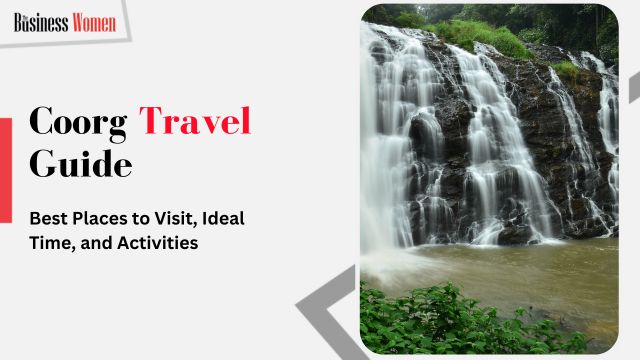 Coorg Travel Guide: Best Places to Visit, Ideal Time, and Activities
Coorg, often referred to as the "Kashmir of Karnataka," is a captivating destination in Karnataka, India. Its enchanting landscapes, natural beauty, and rich history have made it a favourite among local and international travellers. As a witness to historical and cultural events spanning centuries, Coorg holds a unique allure. This comprehensive city guide unveils the top attractions, the best time to visit, and many activities for an unforgettable Coorg experience.
Best Places to Visit in Coorg
Abbey Falls
Just 1 kilometre from Madikeri town, Abbey Falls is a picturesque waterfall surrounded by lush coffee plantations. It serves as an ideal picnic spot, allowing visitors to revel in the natural beauty and tranquillity of the area.
Dubare Elephant Camp
Set against the backdrop of the Kaveri River, the Dubare Elephant Camp offers an immersive experience with elephants. Tourists can engage in elephant-related activities, feed them, bathe them, and embark on jungle rides.
Honnamana Kere Lake
Known as the largest lake in Coorg, Honnamana Kere Lake is revered for its religious significance and natural beauty. The location attracts both nature enthusiasts and religious devotees.
Popular Tourist Attractions in Coorg
Kotebetta
As the third-highest peak in Coorg, Kotebetta offers a rewarding trekking experience through dense greenery and coffee estates. At the summit, a temple dedicated to Lord Shiva awaits.
Madikeri Fort
Steeped in history, Madikeri Fort showcases a blend of architectural styles. It houses a church, a library, and the Kote Maha Ganpathi Temple, providing insights into Coorg's cultural heritage.
Padi Igguthappa Temple
Located in Kakkabe town, this ancient temple is dedicated to Lord Igguthappa (Lord Subramanya). The temple plays a significant role in Kodava culture and traditions, hosting vibrant festivals and ceremonies.
How to Reach Coorg
By Air
Mangalore Airport, approximately 160 kilometres away, is the nearest airport to Coorg. It's well-connected to major Indian cities, facilitating convenient air travel options.
By Road
Coorg is well-connected through road networks, with Karnataka State Road Transport Corporation (KSRTC) offering regular bus services from cities like Bengaluru, Mangalore, and Mysore.
By Train
While Coorg lacks its own railway station, Mysore Railway Station, Mangalore Railway Station, and Hassan Railway Station serve as convenient regional gateways.
Best Time to Visit Coorg
Summer Season (March to May)
With pleasant weather and blooming flowers, summer is a popular time to visit Coorg. Outdoor activities are abundant during this season.
Winter Season (October to February)
Ideal for honeymooners, Coorg's winter season offers cool breezes, chilly nights, and comfortable daytime temperatures.
Monsoon Season (June to September)
Though considered the "off-season," Coorg's monsoon season showcases lush landscapes, making it an excellent time for nature enthusiasts and adventure seekers.
Top 5-Star Hotels in Coorg
Madikeri Resort and Spa: Offering luxurious accommodation, spa services, and stunning rainforest views.
Coorg Wilderness Resort: Featuring a fitness centre, infinity pool, and adventure activities.
Aurika Coorg: Providing various services, including a restaurant, fitness centre, and concierge.
Copperhill Luxury Homestay: Offering a garden, terrace, and 24-hour front desk services.
Conclusion
Coorg, with its captivating landscapes, historical sites, and myriad activities, promises a memorable getaway. This comprehensive guide equips travellers with the essential information to explore Coorg's enchanting beauty and cultural heritage.